A number of years ago I was honeymooning in Hawaii with my International Gay Husband (IGH). We had a beautiful vacation in Honolulu, especially because he had to work during the day while I did whatever the hell I wanted. Then at night there was dinner and dancing (OK, him dancing with someone else, but technically there was dancing). It was a fine 10 days or so.
One evening we came back to the hotel and needed to ask the front desk about something or other that I don't remember, so it must not have been about me important. My IGH pulled our rental car up to the front of the hotel and got out just to run up to the front desk for a moment. We took care of whatever we were taking care of in less than 5 minutes but when we turned around, the car was gone. Hmmm.
Neither of us is terribly bright, but we noticed that the parking valet stand was nearby so we inquired about our car. Yes, the efficient parking valet had whisked it off. But all our stuff was in the car and we had obviously not intended to valet park, so we laughed it off and asked the valet to go back and get the car.
The super efficient valet zipped right back up in our car. We hopped in and drove over to park in the garage closest to our building. We went to grab our stuff out of the back seat when we realized…uh this was not our stuff. The valet had brought us someone else's car. Ooops.
It seems that the onsite rental car company owned dozens of red Oldsmobile Aleros, and we were all driving the same car. Back to the front desk we went, and this time when the valet brought back A car, we made sure it was OUR car. And we took a picture of the license plate just in case, on the very off chance, this happened again.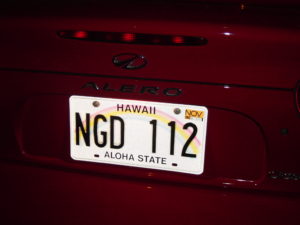 And as long as we had the camera out (Remember those? Pre smart phone days) I went ahead and took advantage of a photo op with the parking valet who at that point had become one of my bestest friends. Mahalo.