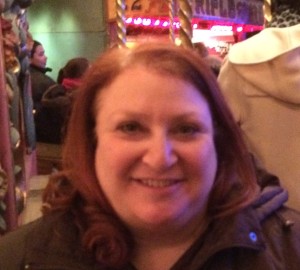 Me
Considered by many to be reasonably intelligent and above average at satire and humor. But honestly, it depends a lot on who you ask. My guiding principle in life is irreverence. Otherwise, it's hard to be funny because a lot of stuff is off limits.
As I was wandering through life minding my own business, I got breast cancer.  Not fun, but I got a book out of it and then went back to doing my whole life thing. Problem is, I was just getting back in my groove when I was hit with a kind of serious chronic lung disease. I mostly write about nonsense that is hopefully at least mildly amusing. But my disease has progressed and it's kind of a bummer, so sometimes I write about this very odd process of being Seriously Ill and Even Dying (gasp!), and it's not always funny. I mean unfunny by design, not just because I suck as a humorist. My readers will have to cope. This is my blog and the rules changed.
Feel free to comment and I will do my best to respond. Also, feel free to buy my book!
My Family
I have been married since 1988 to my college sweetheart Dan. He is an amazing man and I still can't figure out why he puts up with me, but he will probably snap one day and smother me with a pillow. No one, including me, will be surprised.
I am happily Childfree but that doesn't mean I don't like kids; I just never had the overwhelming desire to take responsibility for an entire human being for 18+ years. I'm the doting aunt of a niece and two nephews, all of whom are now lovely adults, and in fact I'm now a Great Aunt to three precious boys.
My Pets
We have 4 cats in our home, which is surely twice as many cats as anyone really needs. We adore them all: Jack, Chrissy, Mrs. Helen Roper (but her friends just call her Helen), and Fancy. Yes, we originally had a theme going there, but lost our precious kitty Janet. Fancy found her way into our home, and she's so damn fancy that we didn't change the name the rescue organization gave her.
Other Critically Important Information
The filter between my brain and my mouth is occasionally leaky. I am typically sarcastic and snarky. If eye rolling was an Olympic sport, I'd take the gold. I try to do the right thing even when no one is looking.  I try to be a good wife, daughter, sister, aunt, friend, neighbor, and just all around person. Sometimes I succeed and sometimes I fail miserably; you'll hear about it all. I believe deeply in human rights, animal rights, and the empowerment of women all over the world. Except the ones who get on my nerves. Don't judge.
Thanks for dropping by!