As I was pondering whether or not Sir Paul McCartney has someone whose job it is to fetch his pizza and whatnot, it occurred to me that I myself am seeking gainful employment. With a little bit of luck, maybe a celebrity has a Pizza Fetcher opening. To be honest, I'm not that picky; I'd happily consider a Coffee or Tea Fetcher job or even a broader role as Beverage Fetcher (I'm versatile).
But what if the Beverage Fetcher had to call in sick one day, and the celebrity needed a half-caff skim latté? No problemo. I'm even willing to accept a job as First Runner Up Beverage Fetcher, just to get my foot in the door and learn the ropes. I feel prepared to serve, literally, in the event the Primary Fetcher cannot.
I wondered how else one could make a living mooching off someone else's fame and success. Personal Assistant, sure, but that's so obvious. Then it hit me like a ton of bricks: Court Jester. Yes! Now we're talking.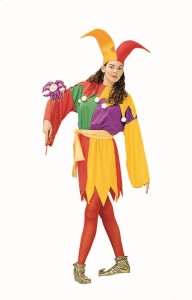 I don't have to be employed by actual royalty, of course. Anyone with a nice bank account and a high profile, who can't just go out and see real comics without being recognized and swarmed by fans. Keep me in the style in which I would gladly become accustomed, and I promise no fewer than (on average of course) 4 laughs an hour. For a nice bonus I could bump that up to 6.
Of course I'm also open to the idea of working as an Institutional Jester; surely there are openings at hospitals, schools or even funeral homes. I have some killer funeral jokes. Wherever mediocre humor is needed, I will be there!
I don't see any openings for Jesters in the want ads, so I'm going to place my own ad:
Now Available: Jester (court, celebrity or other; open to all ideas)
Amuses with pratfalls, bad puns; specializes in cancer, Judaism and the classic; lawyers. Plagiarizes from only the funniest, freshest comedians! See references from former employers:
"We told her every single day: stop clowning around! But Jill is no quitter. She persevered."
"Jill did her best to keep our staff meetings lively, but we're just too stuffy I guess. Eventually we simply stopped inviting her to meetings. She is not cut out for serious work!"
"We counseled Jill to find her happiness elsewhere. Maybe a farm where she can run free with the other oh-so-funny employees."
"Be prepared to point and laugh like you never have before! One of a kind we hope; please, no more like her!"
I'm waiting by the phone!