There are three things you can count on in this world—taxes, death and holiday sweaters. I understand taxes and the inevitability of death, but I am slack-jawed when it comes to holiday sweaters. They typically look like a small child's craft project, all felt and glitter and hot-glue-gunned. And they are all too frequently adorned with bells.
There are lots of sweater themes from which to choose; gingerbread men, Santa (with or without reindeer). Reindeer (with or without Santa), Christmas Trees (with ornaments hanging off the shirt), Snowmen, Christmas dogs and/or Christmas cats, you name the holiday theme; it is featured on an ugly sweater somewhere. The people sweaters are bad enough, but my friend recently spotted a dog in a festive holiday sweater.  She immediately called the SPCA to report the abuse, and I applaud her for her efforts.
Ugly holiday sweaters have now entered the sacred world of hip pop references.  There are ugly sweater parties, ugly sweater swaps, and even e-bay auctions touting ugly sweaters.  With a deft hand one could even make ugly sweater sugar cookies.
But why stop at sweaters?  How about the people who put antlers on their cars or wreaths on their fenders?  I'm not saying I don't enjoy it, but what does that have to do with the religious holiday?  I can only compare it to the Jewish high holidays, and note that you don't see anyone driving around with a Book of Life hood ornament or blowing a shofar in traffic instead of the car horn.
There are so many sights and sounds of the season; the endless freakin' holiday music, It's A Wonderful Life, The Grinch Who Stole Christmas, which should really be called The Grinch Who TRIED To Steal Christmas. I mean, weren't all the Whos in Whoville perfectly fine without any of the trappings of a modern Christmas?
And then there are the lawn displays.  Many of our neighbors have really beautiful nativity scenes, but some interpretations are more interesting than others.  There is a family up the street who use to adorn their lawn with a Disney nativity scene.  We're talking full blown here–Mickey Mouse as the baby Jesus, Pluto, Goofy and Donald Duck as the three wise men, Minnie Mouse as the Virgin Mary.
I just wish I could have been a fly on the wall when the fine marketing folks at Disney came up with this idea.  The buzz kill in the crowd would keep insisting that it be tasteful, respectful.  The extremists would have been rooting for Cinderella's castle as the manger, and maybe even put glass slippers on the Virgin Minnie.  And ultimately there would have to be the suits who isolated the market demographic for such an item and declared it a winner.
But hey, at least it's a nativity scene, rich with the story of Christmas.  There are other scenes that seem to be lost in the translation.  This year a family has started a new tradition-pink pig Santa.  Yes, what conveys the spirit of Christmas more than a pink pig dressed up in a Santa suit?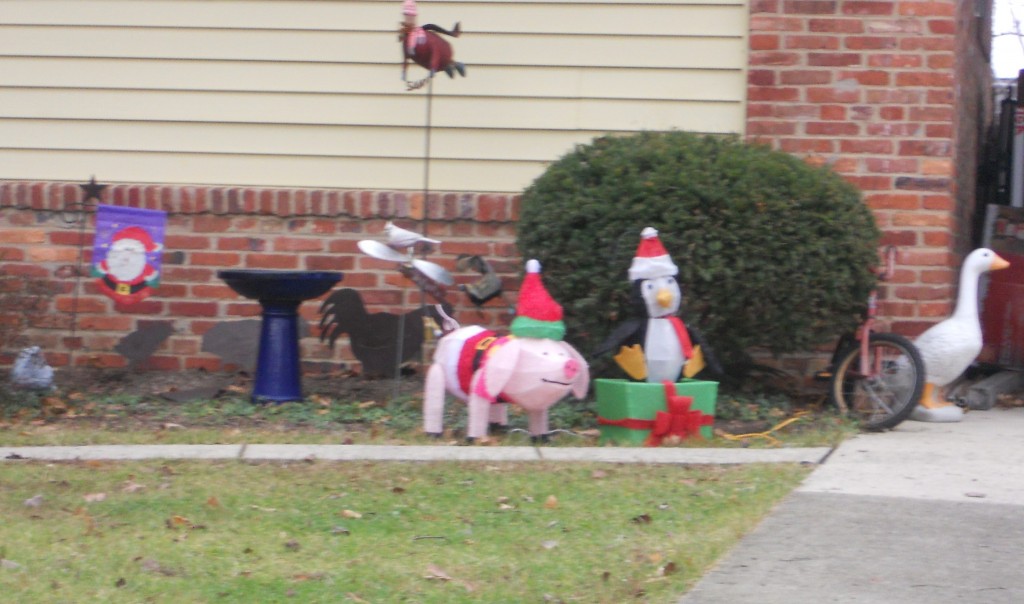 Is that festive or what?  The pig and the penguin in a Peacable Kingdom.  Note that the goose is typically attired year-round according to the season; it's unusual to see it stark naked like that.  Checking out the goose's outfit for the day is one of the things I most look forward to as I head out to work each day.
But another family in our neighborhood has blown the whole thing out of the water, literally, with a flamingo gliding along on a skating rink.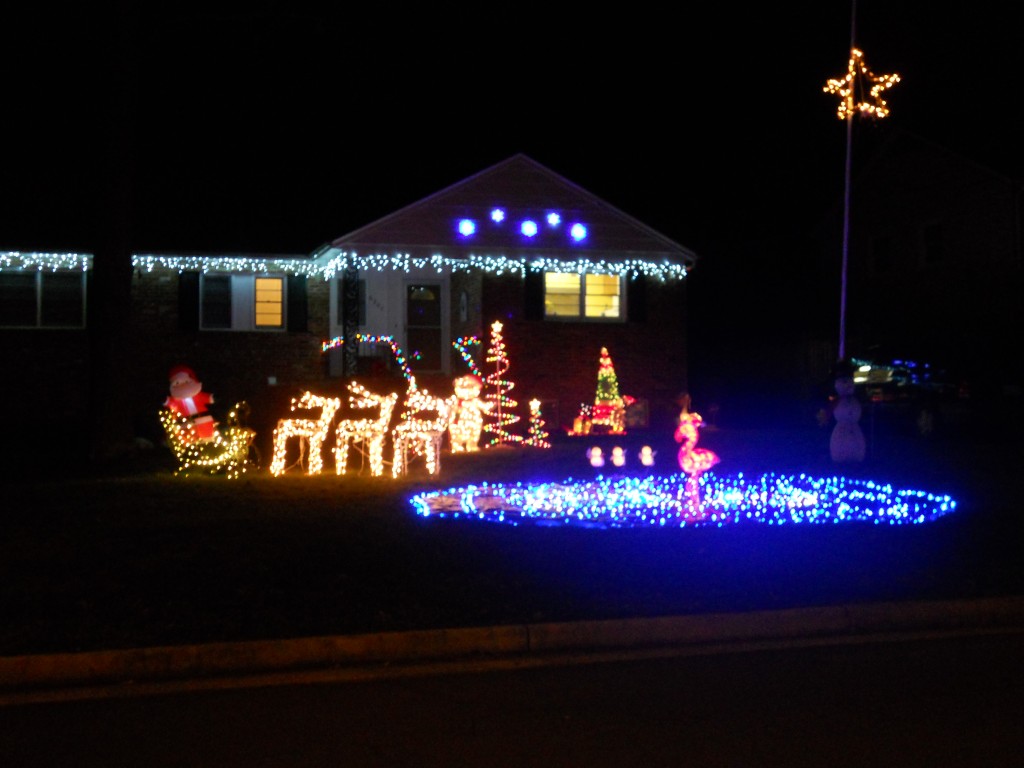 I'll admit that I love it all, every last lawn and light and reindeer.  And believe me when I tell you that if we can ever find a Disney Does Nativity set to buy, it will be proudly displayed on our lawn from Rosh Hashanah to Yom Kippur.