Well, I promised to bring back more material from my mom, and she did not disappoint.  We all worry about our elderly parents, or that's what I hear; I guess I wouldn't know because my mom isn't elderly yet (right, mom?).  I've heard that personalities can change, likes and dislikes.  But I was not prepared to see this upon arrival at her apartment: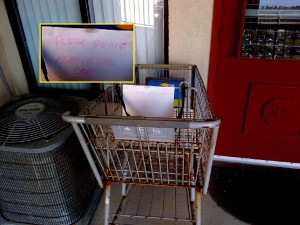 So before we even stepped through the door, a rusty shopping cart with a foreboding, and ironic, sign; PLEASE DO NOT REMOVE.  I'm guessing the grocery store felt the very same way about their cart before it vanished from their parking lot and showed up at my mom's building, where it joined dozens of others.
The cart would be ideal if she was planning on becoming a bag lady, but she assures me her finances are in order. I am still unclear on what mom does with the cart; I think she uses it to lean on and wheel her 50 pound purse to the elevator or something.  Call me crazy, but maybe if she traveled a little lighter she wouldn't need to rely on the cart.
When we finally made it inside I was disappointed to see that my mom has a watch-tan.  I scolded her for not wearing sunscreen and got a whole song and dance about how she's never in the sun.  But here is Exhibit A: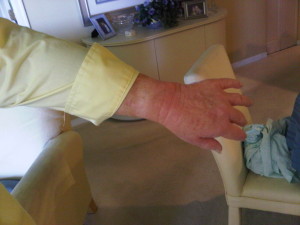 At least she was cooperative for the photo shoot. I tell her at the very least if she's going to tan, she should take her watch off.  And you know what I got?  She doesn't think I saw it, but I did; I got the eye roll.  She gave me the eye roll.  WTF?
Just for that I sat back down and let her serve me more food.  It killed me to do it, but sometimes they need a little tough love, right?