I know that according to Blog Law I should be writing something meaningful about Thanksgiving, and all the things for which I am grateful. And I am by all means grateful for my charmed life. Of course I would be most thankful if my family members engage in antics that give me solid blog material. I live for something wacky to happen so I can write about it.
I think that rigorous political debate around the dinner table is the hallmark of civilized society, and is certainly alive and well in my family. By "rigorous political debate" I mean being reduced to spouting half-truths and name calling. That's what I call fun! And that's why I can't help but love this particular marketing piece I received from the DNC today:
This time of year, the only thing more annoying than holiday traffic is an awkward conversation with family about politics.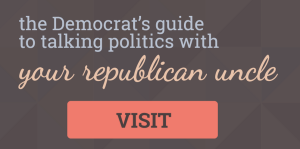 Don't get me wrong — I love the Republicans in my life. But nothing ruins a slice of pecan pie faster than talking through immigration reform with a cousin who spends too much time listening to Rush Limbaugh.
That's why we're launching YourRepublicanUncle.com. And if you want to make sure that the political debates around your dinner table this Thanksgiving stay tethered to reality, you should check it out.
Regardless of your political persuasion, whether you are the lesser of two evils a Democrat, delusional a Republican, or even having a psychotic break a member of the Tea Party, you have to appreciate an absolutely brilliant marketing campaign. You have to. Those are the rules.
So in addition to being grateful for good health, a wonderful husband, a loving family, amazing friends, four beautiful cats, and all that other crap I'm supposed to be thinking about right now, I am astoundingly grateful for the intern Senior Strategist who came up with this idea. The website has many great tidbits from which to choose, but I am particularly fond of this one:

Because your Republican uncle no doubt went to the School of Don't Blow Smoke Up My Ass, and harbors a vague suspicion of scientists and all their so-called proven facts.
Wishing everyone a Happy Thanksgiving, and to my closest family and friends, please, please do something either brilliant or idiotic that my readers might enjoy.