As I have probably made abundantly clear by now, I am somewhat of a sloth. Exercise? Not so much. But the fact is that a girl can only sit on her butt for so long before it's time to get the old blood flowing. OK, well, this girl could probably sit around forever doing nothing, and never feel a real desire to exercise, but, well, it's got to be done.
I think I have a number of viable options for a new routine. One thing I'm considering is a strict regimen of laughing my ass off. If I watch and read nothing but hilariously funny stuff, surely I will chuckle off the flab? Maybe the effect would be even greater if I was watching someone else exercise. Hence, one option for a new routine: Laughing at Richard Simmons Sweatin' to the Oldies!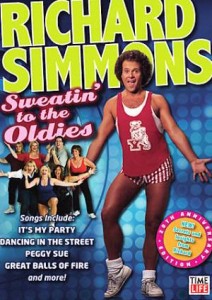 Of course, I could also approach this the same way I would a business problem, which leads me to one obvious conclusion: outsourcing. I will hire someone to exercise for me! Possibly someone offshore who won't bother me with a lot of chatter when I'm trying to watch TV. In fact, as long as I'm outsourcing, I might as well hire them to eat right as well. That way, when my body atrophies they will have already been compensated to give me a full body transplant.
Another option might be simply buying larger clothes. How often did I hear my HR persona explaining to people that perception is reality? That being the case, I should be able to cut inches off my waist just by buying a new pair of jeans that are two sizes too large! I can also ask my doctor to switch the results of my physical with those of a 25 year old aerobics instructor.
Maybe I should look to the east for a more Zen approach. A new mantra…I am physically fit. My body is a temple. Deep cleansing breaths. Method acting? Be the fitness. Become the fitness. Visualize a physically fit body and soul. Embrace the freakin' fitness.
I'm going to go watch Jane Fonda aerobics with a laugh track, as I become one with the fitness. I'll let you know how it all works out. Hmm, "works out" sounds like exercise too…