I absolutely love Halloween.  It is my favorite holiday for many sound reasons:
No family obligations whatsoever, no one has to cook (although admittedly in my family that's always my sister-in-law Lisa anyway)
No gift giving
No traditions to follow
Celebrate by dressing up in weird costumes, putting up crazy spooky decorations, and eating candy!
Scare small children without reproach (unlike what I get all other times of the year)
So seriously, what's not to love?  I'm pretty sure that I dressed up as a fairy princess every single year when I was a child.  I'm very sure that my brothers made fun of me for that every year, but they were dumb.  As an adult I've dressed up as everything from a California Raisin (remember-they were cool at one time) to a cow with a pink furry belly.
In fact, in one of my posts way back when, I noted that two of my employees in a former firm announced their sexual orientation on the same day.  What I failed to mention is that it was Halloween, and I was dressed as a cow from head to toe, including pink glitter udders on my hat.  I'm going to say it was an interesting day to be having a serious discussion with employees.  Just for fun I also had to unexpectedly meet with an employee in HR that day, and our HR manager kept signaling to me to take off the hat.  I kept signaling back "bad hat hair, not happening!"  Here I am modeling the hat as a possible head cover choice after chemo.  It was July, so kind of nixed that one.  I think you'll agree it was pretty awesome though.
I don't typically come to work in costume any more, but I decorate my office every year, and somehow it keeps escalating, so I would say it is officially over the top now.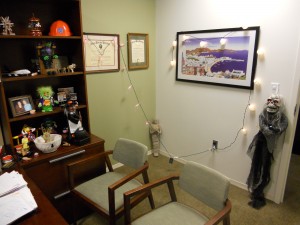 But hey, Halloween is the holiday of excess everything, go big or go home.  You don't do Halloween classy, you do Halloween in the tackiest fashion possible.