I've just returned from a fun-filled weekend in Chicago, where my nephew Sean staged an amazing production of Kurt Vonnegut's Cat's Cradle, which I can assure you is not about a cat in a cradle, even though that is totally adorable.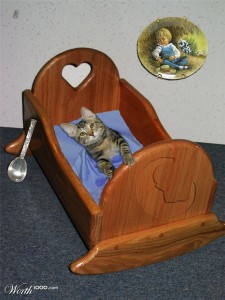 I've said it before, and I'll say it again: If you have not read this book; buy, beg, borrow or steal it immediately and read it. You will thank me, I promise. I guess it wouldn't hurt to repeat that Sean is an extremely talented junior in the Theatre Department at Northwestern.
Speaking of college, I was once a junior in college, where I was neither talented nor allowed anywhere near the Theatre Department. I was allowed to study history. Yawn. My overwhelming desire to perform on stage was dampened only by my utter lack of talent. This is a widely held opinion that has been confirmed time and time again; from my failed high school auditions to my failed community theatre auditions to my failed…well, that's enough talk of my failures. As you can see, I have overcome my bitterness at being denied my dream and I so totally don't care anymore. Like, at all. Nope. Don't care, and that's why I don't mention it. Because I hardly ever think about it. Mostly.
Speaking of theatre, the point is that Sean is living my dream (and presumably his) and it is very satisfying to me (and presumably to him). You may recall that I traveled to Chicago last February to see Sean in A Midsummer Night's Dream, which is when I first introduced you to his dominatrix girlfriend. Perhaps I should clarify…she was only playing a role as a dominatrix, and was not even his girlfriend at the time, although she is now. And I'm sure it had nothing whatsoever to do with that costume. In reality she is a lovely young woman who probably doesn't own much by way of leather whips and whatnot. But hey, I don't judge. I promise to never again refer to her as Ms. Fishnets as long as she understands that in our family if we are not teasing you or otherwise making fun of you, well, we probably don't like you very much. So, whether or not she harbors fear and dread over being made fun of, don't count on any of the Foers to assuage those anxieties.
Speaking of nephews, point in fact: my other nephew Craig, who himself is a major dorfus, met us in Chicago and was subject to extensive teasing throughout the weekend. Craig has a good strategy though; he keeps us all laughing non-stop so we don't have as much time to amuse ourselves by harassing him. Craig is a good sport, and rolled with the changes when his parents did not show up at the airport and were in fact delayed for hours, leaving him to deal with me as I was dealing with the rental car stuff. Due to the circumstances Craig and I found ourselves enjoying a candlelit Valentine's Day dinner of fish and chips at a fabulous pub.
Speaking of Valentine's Day, the ink was barely dry on my February 14 posting about the cheesy fake holiday when we were confronted with an ardent and passionate Valentine's Day celebrant. The woman who drove the rental car shuttle bus was visibly upset when we told her that neither of us had big plans for the evening (of course we didn't know then that we would be celebrating in grand style with fried foods later that day). The whole thing seemed so important to her that we ended up enthusiastically agreeing that flowers and candy were the most important thing in the world on that special day. It was just a little white lie.
Speaking of Craig (again), it turns out that he enjoys playing an Idiotic Professional Tourist wherever he travels. For example, he told me he hoped there was a Sbarro's in the airport so he could finally taste a slice of authentic Chicago pizza. Fortunately I caught on to his charade before swatting him upside the head for being a moron (even though that would have been sort of fun). When traveling in the south recently he had authentic southern sweet tea at McDonald's, and authentic southern fried chicken at KFC. He is a worldly, well-traveled young man, I must admit.
Speaking of food, I'd like to give a shout-out to the Just Like Home restaurant, which is on that big long road that takes you from O'Hare to Evanston. Chance brought us in the first time, last year, but this year we ate there twice on purpose, and would have eaten there again if we'd had time. Not just a great menu and friendly service, but eggs Florentine that might convince me to move to Illinois.
Speaking of Illinois actually brings us full circle to my weekend in Chicago. To recap: awesome nephews, awesome food, a nice young woman who is not a dominatrix (as far as we know), and seeing one of my favorite books come to life on the stage, as interpreted by one of the aforementioned awesome nephews. It's good to be me.